How Long Does Tadalafil Stay In Your System?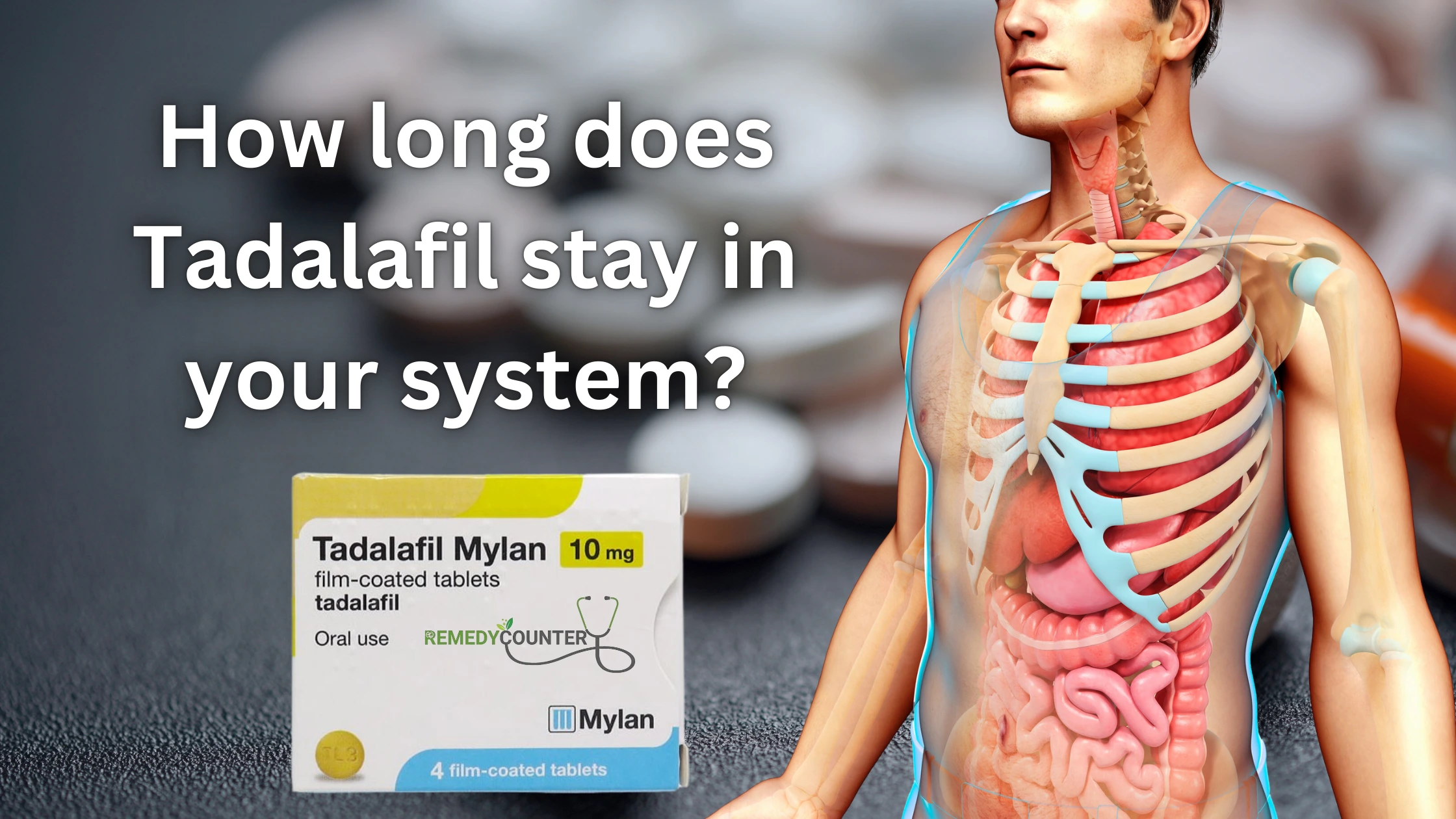 The effects of Tadalafil last for 36 hours, but the compound stays in the system even after its effects are gone. Following an excretion process by the kidney, it takes about 96 hours (about 4 days) for the body to completely eliminate Tadalafil from the system.
How long does Tadalafil stay in your system is the question that most people wonder about as it determines the potency and effectiveness of the medication.
Tadalafil is a class of drugs known as phosphodiesterase (PDE5) inhibitors that are widely used for the treatment of Erectile Dysfunction in men. It works by increasing the blood flow to the blood vessels in the abdominal tissue of the penis, thus allowing a firm erection.
This blog evaluates how long does tadalafil last and ways to enhance its elimination process from the body.
How Long Does Tadalafil Take To Work?
The onset of action of Tadalafil is 30 minutes, but it is important to note that to get the most out of this medicine, you need to be aroused [1], as the medication does not work in the absence of sexual stimulation.
There are many factors that may affect how long Tadalafil takes to work, such as dosage, lifestyle, hepatic and renal functioning, etc.
Tadalafil half-life
Half-life is the time taken by a medicine to decrease by half of its original dosage.
The half-life of Tadalafil is approximately 17.5 hours in healthy men and 21.6 hours in elderly men [3]. The longer half-life of Tadalafil helps in providing a longer duration of action (36 hours).
How Long Does Tadalafil Stay In Your System?
It takes about 96 hours (4 days) for Tadalafil to completely leave your system.
Tadalafil Timeline
First Responder- 16 minutes.
Many men have been able to achieve an erection from taking Tadalafil within 16 minutes of administration.
Average onset of action- 30 minutes.
Studies show that about 52% of men are able to achieve an erection within 30 minutes of taking the Tadalafil dosage.
The maximum concentration of Tadalafil is achieved within 2 hours from administration.
It takes 17.5 hours to eliminate half of the dose taken.
Complete Elimination- 96 hours.
After 96 hours of taking this ED pill, the body is able to completely eliminate it from the system.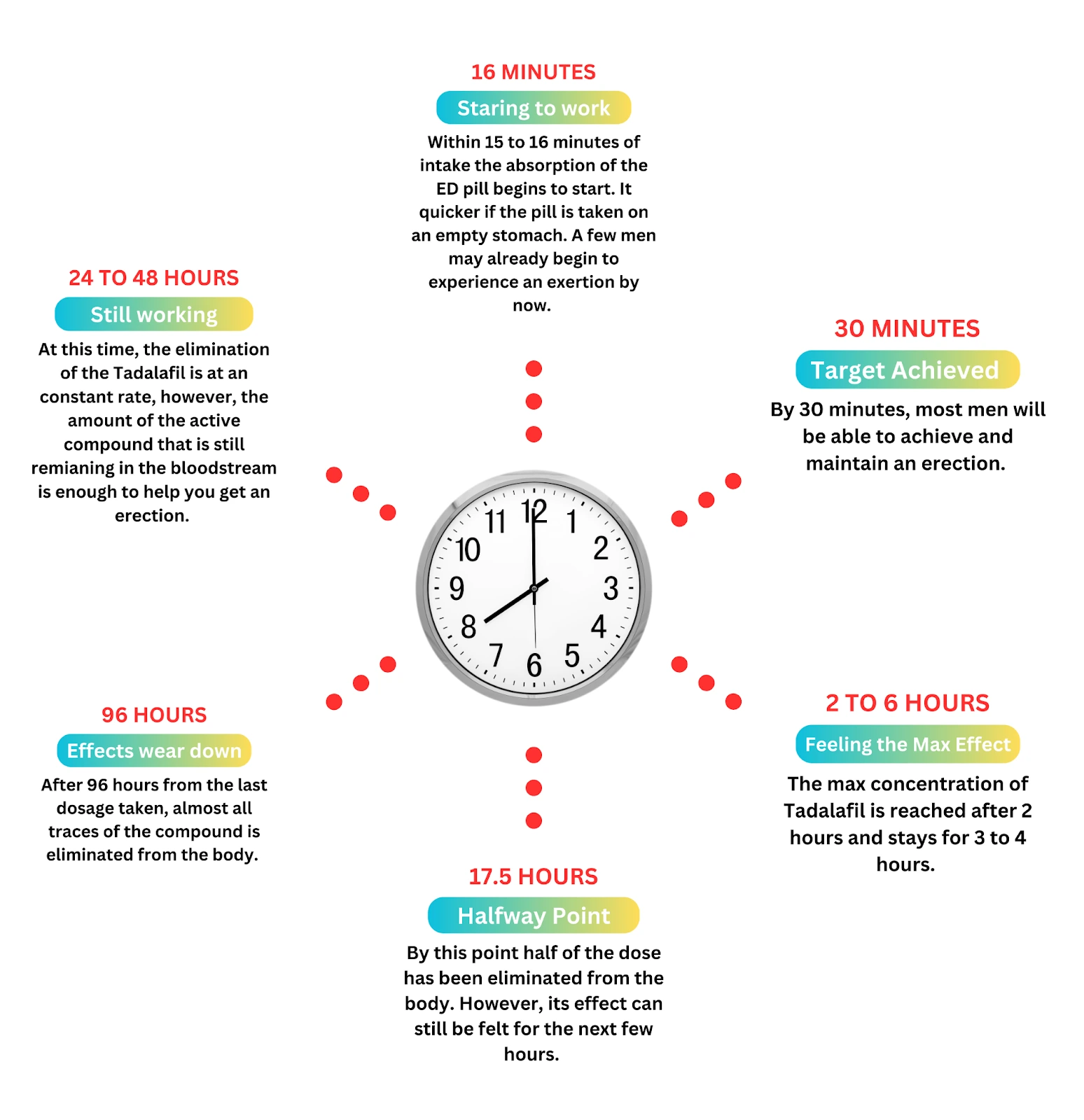 In comparison, Sildenafil stays in the system for a much shorter time, thus making Tadalafil an effective treatment option for people with severe Erectile dysfunction.
Bioavailability of Tadalafil
Bioavailability is defined as the extent of a substance or drug that ends up in the bloodstream.

The graph demonstrates a single dose of Tadalafil 20 mg takes over 96 hours to leave the system. It also suggests that the level of available Tadalafil after 36 hours post-dose is around 100 micrograms per liter [2].
How long does Tadalafil last?
According to the National Library of Medicine, the effects of Tadalafil last for about 36 hours from a single dose [4]. It has the longest duration of action compared to all the PDE5 inhibitors available in the market. So, to experience the unmatched benefits of this ED pill you can buy affordable Tadalafil pills online from Remedy Counter.
Factors That Contribute To How Long Tadalafil Last
Even though Tadalafil is highly effective but there are certain factors that are responsible for reducing the effectiveness of the drug. Some of the factors are listed below-
Alcoholic Beverages- Taking too much alcohol with Tadalafil can affect your ability to become aroused and can lead to a lowering of blood pressure resulting in dizziness, headache, and fainting.

Age- Tadalafil may last longer in elderly people because it takes longer to process the medicine in this population, as with age, the metabolism of a person declines.

High-Fat Food- Taking Tadalafil or its brand medications, such as Vidalista Professional, after a heavy meal can make Tadalafil take longer to work and reduces its effectiveness.

Avoid Grapefruit Juice- They may affect the breakdown of Tadalafil therefore, it is advised to avoid it.
How to get maximum effect from Tadalafil?
To get the maximum effect from Tadalafil, following the steps mentioned below may be helpful.
Take as directed by your doctor - It is important to follow all the instructions that are given by your doctor regarding the dosage, timing, etc., to get the maximum effect of this medicine.

Be physically active - An unhealthy lifestyle can affect ED as well as how Tadalafil works, as a result leading to more side effects.
A healthy diet and increasing physical activity are important for the wellness of physical health and can affect the severity of Erectile dysfunction.
Stay relaxed and Communicate - If you are anxious, stressed, or nervous, Tadalafil may not work properly. It is important to be relaxed for the medication to work best.
Talking with a therapist or a psychiatrist can help you navigate strategies for the emotional and mental side of intimacy [5].
Our Final Thoughts On How Long Does Tadalafil Stay In Your System
The action of Tadalafil lasts for 36 hours and has 30 minutes of onset of action. It has a half-life of 17.5 hours and is known to be one of the longest-acting ED pills on the market.
How long Tadalafil stays in the system depends on its mechanism of action. This pill is primarily metabolized by the liver and is eliminated through the kidney in about 96 hours.
FAQ (Frequently Asked Questions)-
How long does it take for Tadalafil to leave your system?
A single dose of Tadalafil can stay in your system for 2 days.
What is the peak time for Tadalafil?
Tadalafil reached peak concentration in about two hours.
Can I take Tadalafil two days in a row?
It is recommended not to take Tadalafil more than once a day.
How long does tadalafil make you last in bed?
The effects of Tadalafil last for about 36 hours.
References
Cialas, accessdata.fda.gov

Tadalafil in the treatment of erectile dysfunction, PubMed Central.

Tips to Get the Most Out of Tadalafil (Cialis), Healthline.