What Are The Benefits Of Piracetam?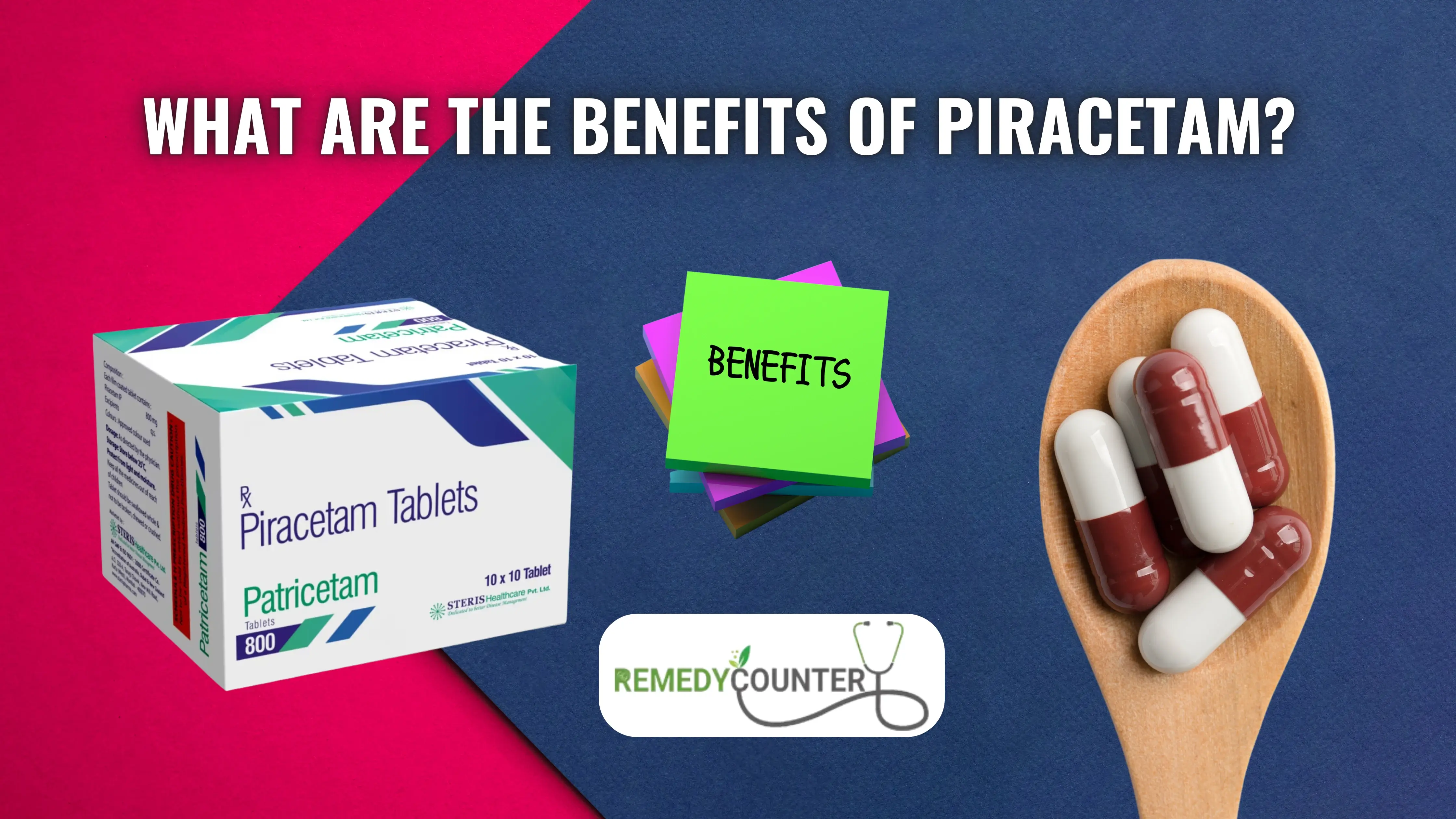 There are various benefits of Piracetam, such as it improves brain function, manages myoclonic seizures, Dyslexia, Dementia, and Alzheimer's disease, and provides pain relief.
Each year thousands of people take smart drugs to improve their brain function. One of the most popular Nootropics available in recent times is Piracetam. It is a drug that has various uses and benefits.
Here, in this blog, we will go over the basics of Piracetam, from how it works to its uses and benefits.
Piracetam - Overview
Piracetam is a synthetic nootropic called racetam that was originally used to treat motion sickness. It is the first drug to be labeled as a nootropic and was developed in the 1960s. There are several uses and benefits of this nootropic.
Piracetam is sold under various brand names, such as Nootropil, Myocalm, Dinagen, and Qropi.
What Are The Uses And Benefits Of Piracetam?
Piracetam has a number of applications, some of which are listed below
Seizure disorder.

It enhances cellular membrane fluidity, which is necessary for the proper growth, function, viability, and reproduction of cells.

Manages Vertigo.

It helps people recover from alcoholism.

Prevents memory loss.

Manages sickle cell anemia.

Helps to treat dyslexia.

It helps to manage myoclonus [2].
Piracetam Benefits
A few notable benefits of taking Piracetam dosage are listed below-
Improves Brain Function -
Piracetam is also known as a smart drug. Smart drugs are those substances that have the ability to boost brain performance.
A study titled Mechanism of action of Piracetam on cerebral circulation, published in the year 1987, found that Piracetam improves blood flow and improve blood circulation and may help to improve learning and awareness [3].
Myoclonic Seizures -
Myoclonic seizures are a type of seizure that results in rapid, involuntary muscle movements. They are usually brief but can occur with severe seizure disorders. They are common in children with seizure problems but can also occur in adults.
In the double-blind crossover study, Piracetam relieves symptoms in progressive myoclonus epilepsy, comparing the efficacy and safety of three dosages of Piracetam with a Placebo investigated the effect of Piracetam in 20 patients with Myoclonic seizures.
During the investigation, the patients were given three different dosages of Piracetam or a placebo for six weeks. Researchers found that all three dosages of Piracetam improved handwriting skills, functional ability, and motor function [4].

Dyslexia-
Dyslexia is a learning disability that includes difficulties reading as a result of difficulties detecting speech sounds and learning how they relate to letters and words.
In a trial, 257 dyslexic boys aged 8 to 13 were given 3.3 grams of piracetam or a placebo every day for 12 weeks. Piracetam treatment dramatically enhanced reading speed and short-term listening memory [5].
Dementia And Alzheimer's Disease-
Dementia is a condition that is described by a loss of thinking capacity, memory, attention, logical reasoning, and other mental abilities.
One of the common causes resulting in dementia is Alzheimer's disease.
Piracetam can protect against dementia and Alzheimer's disease in test tube studies by preventing damage caused by amyloid-beta peptide buildup [5].
Provides Pain Relief
Piracetam has antioxidant properties through which it can relieve pain [6].
So, if you, too, are looking forward to treating any of the above-mentioned conditions with Piracetam, we recommend getting Nootropil tablets. Remedy Counter is a genuine online pharmacy to buy Nootropil 800 mg tablets that offer free shipping and discounted price on all orders.
The Working Mechanism
Piracetam (Nootropil) gets its Nootropic effects through three mechanisms of action.
By Increasing The Flow Of Acetylcholine -
Piracetam improves the flow of Acetylcholine by modulating the AMPA and NMDA.
Acetylcholine is the most available neurotransmitter in the body and performs various brain functions such as neuroplasticity, synaptic generation, neurotransmitter communication, and memory inducing.
By optimizing these processes, one can significantly increase their performance in a variety of mental tasks.
Increases Receptor Density -
Piracetam gets this by modulating the flow of Acetylcholine in the brain but also increasing the density of ACH receptors. This means long-term use of Piracetam can have a significant positive impact on brain neuroplasticity which n turn can improve the ability to learn and create memories as well as decision-making.
Since Piracetam increases the density of NMDA receptors, it can reduce the effects of cognitive decline caused due to aging.
As one gets old, they start to lose NMDA receptors which can lead to decreased mental performance, but Piracetam can slow down or halt this trend.
Piracetam Improves Cerebral Bloodflow-
Piracetam has been linked to increasing blood flow into the brain; this means the brain can get more oxygen and glucose(the main energy source for cognition), and it ensures the byproducts are safely carried out.
An increase in oxygen and glucose levels is critical for ATP production )ATP is the primary source for cellular metabolism, important for brain function).
It seems that Piracetam can increase blood flow into the areas of the brain associated with verbal fluency and communication skills, and another advantage of this nootropic is it can decrease inflammation in the brain [1].
How To Take Piracetam - Dosage Guide
Correct dosage and administration of Piracetam or its brand drug Nootropil are very important for optimal results. Here we have discussed the dosage of Piracetam for various conditions.
The standard dosage of Piracetam for adults is 1200 to 4800 mg.
For seizure disorder (epilepsy) - 1 gram or 1000 mg daily on day 6 of surgery for 6 weeks.

For Vertigo - 800 mg for 1-8 weeks, thrice daily.

For Tardive dyskinesia- 2.4 grams or 2400 mg for 4 weeks, twice daily [7].
Piracetam dosage varies from person to person therefore, it is advised to take Piracetam the way your doctor has prescribed it.
Administration of Piracetam Tablets
Proper administration of Piracetam is crucial to avoid unwanted effects of the Nootropic.
Piracetam should be administered orally with or without food.

Take the recommended dose in two to three sub-doses.

Swallow the whole medicine with a glass of water.

Do not chew or crush the medicine.

Take it exactly as prescribed [8].
Piracetam Prices - How Much Does The Nootropic Cost?
The prices of Piracetam based on the number of pills are given below in the table. The lowest price of Piracetam is $0.47 per pill.
| Quantity | Prices |
| --- | --- |
| 90 pills | $130 |
| 180 pills | $210 |
| 240 pills | $240 |
| 300 pills | $300 |
A comparative study between Piracetam vs Noopept further suggests that Piracetam is a much more affordable choice of treatment.
Piracetam Legality - What Is The Legal Status Of This Nootropic In Different Countries?

Piracetam, being a member of the racetam family, is available to sell and buy in most Countries but may vary by some regions.
| Country | Legal Status |
| --- | --- |
| United States | Not approved by the FDA |
| Japan | Approved as a prescription drug |
| Canada | Can be imported for personal use |
| Hungary | Prescription-only medication |
| New Zealand | Prescription-only drug. |
| Switzerland | Prescription-only drug |
| Germany | Prescription-only drug |
Piracetam Warnings- Things To Remember While Taking This Medicine
Piracetam should be used with caution in people with the following conditions -
Pregnancy- The use of Piracetam is not recommended in pregnant and breastfeeding women.

Heart disease- People with heart conditions like high blood pressure, cardiac arrest, heart attack, etc., should use Piracetam cautiously.

Kidney disease- As Piracetam is filtered through the kidneys therefore people with renal impairment should consult their doctor before taking the nootropic.

Elderly- Elderly people should be monitored closely while taking Piracetam because it can cause serious side effects.

Surgery- Inform your doctor about the use of Piracetam if you have to undergo any surgery.

Alcohol- Taking Piracetam with Alcohol can cause intoxication [9].
Piracetam Side Effects - What Are The Potential Unwanted Effects Of This Drug?
Although numerous side effects are reported with the use of Piracetam, researchers believe that Piracetam is safe and well tolerated.
Some of the potential side effects of Piracetam are diarrhea, drowsiness, insomnia, depression, skin rash, muscle spasms, skin rash, and restlessness [2].
Interactions - What Are The Drugs That Piracetam React With?
Piracetam can cause drug interaction with certain medications. It can cause side effects and lower the effectiveness of the medicine.
Piracetam interacts with medicines that prevent blood clotting (anticoagulants). Such interaction can slow down the clotting of blood and will increase the chances of bleeding. Some of these medicines are listed below -
Warfarin

Acetaminophen

Aspirin

Clopidogrel

Dipyridamole

Ibuprofen

Naproxen

Prasugrel

Heparin

Tirofiban

Enoxaparin

Dalteparin

Thyroid derivatives and levothyroxine
A few other medicines can also react with Piracetam are provided below-
Abacavir

Cefotaxime

Benznidazole

Acetazolamide

Baclofen

Amphetamine.
Benefits Of Piracetam -The Bottom Line
Piracetam is an effective and safe Nootropic that has various uses and can provide several benefits.
To sum up, Piracetam is used to manage several conditions such as seizure disorder, vertigo, sickle cell anemia, etc. It may also help manage symptoms of dyslexia and dementia, reduce inflammation risk, and promote brain function.
But before taking this synthetic Nootropic, it is advised to consult your healthcare provider.
You can also check out our "Piracetam Vs Noopept" to get a better idea of Piracetam and its key differences with other medications of the same drug class.
FAQ (Frequently Asked Questions)-
What are the therapeutic effects of Piracetam?
Piracetam is commonly used to treat vertigo, dyslexia, tardive dyskinesia, myoclonic seizures, etc.
How does Piracetam make you feel?
Piracetam can make you feel drowsy.
Is Piracetam any good?
Yes, Piracetam is an effective nootropic with several benefits.
What does Piracetam do to the brain?
Piracetam increases the brain's blood supply, oxygen, and glucose consumption.
Is Piracetam good for anxiety?
Some sources suggest that Piracetam may be useful in treating the symptoms of anxiety but do not take it without your doctor's consultation.
What's the best time to take Piracetam?
Try to take Piracetam at the same time every day with or without food or as advised by your doctor.
References
Piracetam: Benefits, Dosing, Where To Buy, And more! holisticnootropics.

What Is Piracetam? Plus, 5 Possible Benefits, draxe.

Mechanism of action of piracetam on cerebral circulation, PubMed.

Piracetam relieves symptoms in progressive myoclonus epilepsy: a multicentre, randomised, double blind, crossover study comparing the efficacy and safety of three dosages of oral piracetam with placebo, PubMed.

5 Benefits of Piracetam (Plus Side Effects), Healthline.

Piracetam - Uses, Side Effects, and More, WebMD.

Nootropil Tablets 800 mg, emc.