Boost Your Brainpower With Piracetam: A Beginners Handbook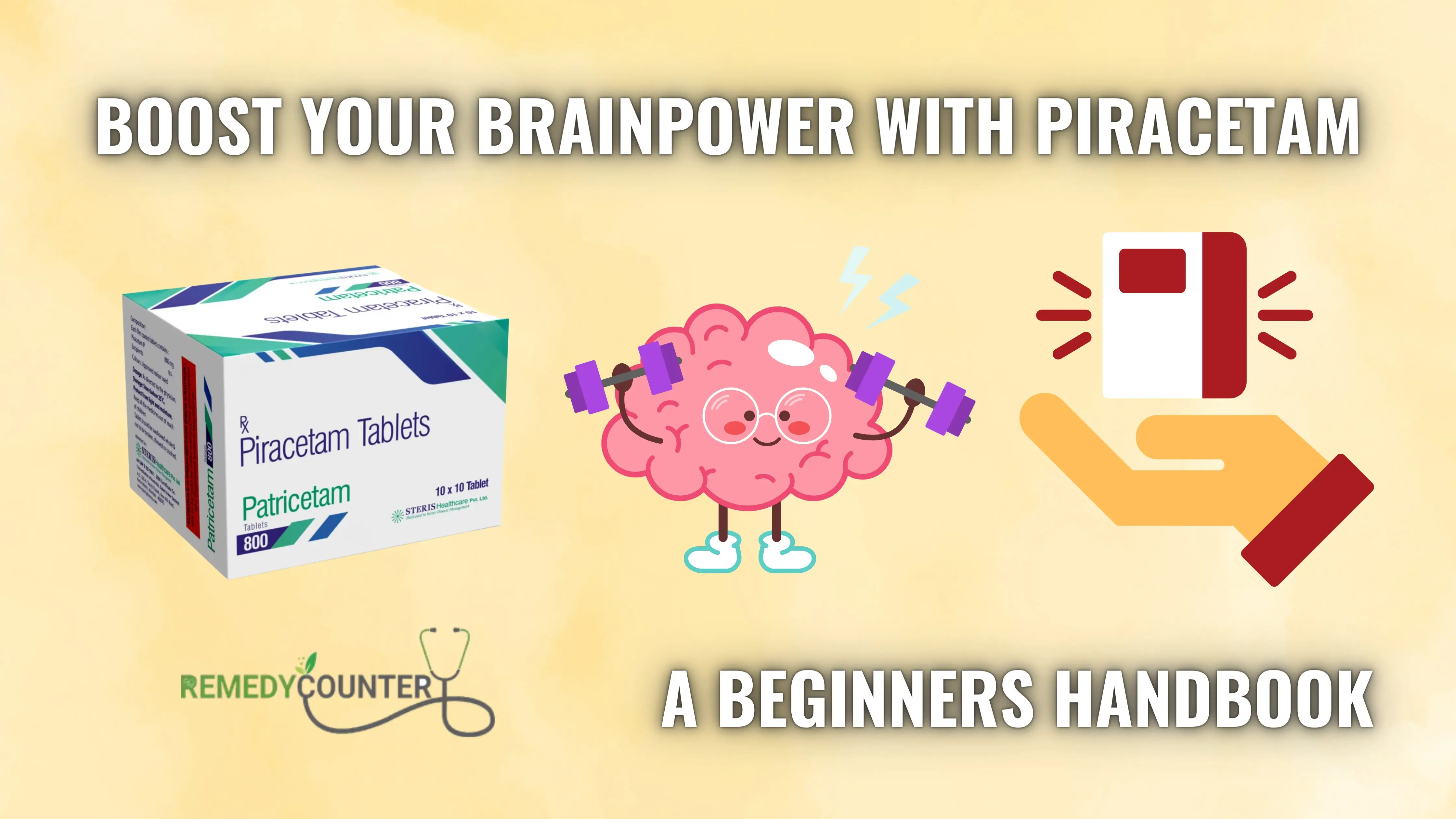 Piracetam is an effective and well-tolerated nootropic that is used for treating various health ailments. It is available in different dosage forms and has very few drug interactions.
Have you ever been curious about Piracetam? If so, you've come to the correct place. This blog will cover everything you need to know about this nootropic, from its usage, benefits, side effects, and interactions.
Piracetam- Overview
Piracetam is a synthetic nootropic that is used to treat various health conditions, including sickle cell disease, dementia, vertigo, and Attention Deficit hyperactivity disorder. In order to promote memory, learning, and attention, it is also utilized as a cognitive enhancer. Piracetam was developed by Corneliu E. Guirgea somewhere between the 1950s and 1964 [1].
Mechanism of action
Piracetam Nootropic works in the Central Nervous System and improves the working of acetylcholine ( chemical messenger) and other brain receptors involved in learning and memory.
Piracetam enhances communication between nerve cells and cell membrane permeability and provides oxygen to the brain and the nervous system.
Piracetam Brands
Piracetam is available under various brand names, some of which are listed below.
Nootropil

Dinagen

Myocalm

Qropi
Benefits And Uses Of Piracetam Nootropics
Piracetam is well known for treating a number of ailments, some of which are listed below.
Vertigo
Vertigo is a sensation in which you feel everything around you is spinning. In a study, namely the effectiveness of Piracetam in Vertigo, published in the year 1999, Piracetam was found to be effective in the treatment of vertigo in both central and peripheral origin[2].
Pain Relief
Piracetam Nootropic has been proven to have antioxidant characteristics in experiments on animals, which implies it helps lessen inflammation by assisting in the neutralization of free radicals, which are potentially toxic chemicals that can injure your cells [3]
Boost Mental Performance
Piracetam increases oxygen, blood supply, and glucose consumption in the brain, especially in people with mental impairment, and these factors improve brain function [3].
Dyslexia
Dyslexia is a learning disorder in which people have trouble reading at a good pace and without any mistakes.
Research indicates that Piracetam may be helpful in people with Dyslexia.
In one study, namely Piracetam, Dyslexia: effects on reading tests, published in the year 1987, 225 children with dyslexia aged 7 to 13 years were treated with 3.3 grams of Piracetam or a placebo daily for 36 weeks. Children who took Piracetam showed improvement in their reading and text comprehension after a week [4].
Myoclonus
A quick, short, involuntary twitching or jerking of a muscle or set of muscles is known as myoclonus.

The benefits of Piracetam that distinguish it from other medications are listed below.
Piracetam boosts brain function.

The risk of overdose with this nootropic is low.

Piracetam has a high bioavailability of approximately 100%.

The nootropic is thought to be safe for long-term use.
To experience the benefits of Piracetam at a pocket-friendly price, you can choose Remedy Counter. With a motto to make healthcare services affordable and convenient, we offer genuine Nootropil 800 mg tablets online without a prescription.
Piracetam Dose And Recommendations
Are you thinking about how much Piracetam to take or what is the correct dosage of Piracetam for different conditions? Then this section of this blog will help you.
The standard dosage of Piracetam for adults is 1200-4800 mg; for children, it is 40-100 mg.
For Vertigo - The recommended dosage of Piracetam to treat Vertigo is 800 mg daily.

For dyslexia - For the treatment of dyslexia, the recommended dosage is 3.3 grams per day.

For ADHD - The recommended dosage for ADHD is 3200-6400 mg.

For CBAG surgery - Orally 12 grams after 6 days of the surgery for six weeks.
How To Use Piracetam?
If you do a few things while taking Piracetam, the effectiveness of this medication will enhance.
It is best to consume the pill whole with a glass of water.

Piracetam can be taken with o without food or as advised by your physician.

The medicine should be taken simultaneously every day to get the most out of it.

Do not break or chew the tablet.
Cost And Affordability Of Piracetam Tablets
Piracetam prices vary from pharmacy to pharmacy; it is best to buy it online from a reputable pharmacy to receive discounts. The lowest price of Piracetam is $0.47 per tablet for 90 tablets.
Is Piracetam Effective?
Yes, Piracetam Nootropic is effective, and its efficacy is documented in vertigo, myoclonus, dyslexia, and sickle cell disease. Sometimes higher doses of the nootropic are required, but it is well tolerated [5].
Who Should Not Take Piracetam?
People with severe kidney disease, liver disease, Huntington's disease, or with bleeding condition should not take Piracetam without a doctor's consultation. Piracetam is not suitable for pregnant or breastfeeding women [6].
Piracetam Legal Status
The legal status of Piracetam (Nootropil) may differ depending on the country and the state. Some of the legal status of Piracetam is listed below [7,8]-
| Country | Legal status |
| --- | --- |
| United States | Uncontrolled substance |
| Japan | Prescription drug |
| Canada | It cannot be sold but can be imported for personal use. |
| Hungary | Prescription-only medication. |
| United Kingdom | Prescription-only drug |
| New Zealand | Prescription-only drug |
| Germany | Prescription medicine |
| Switzerland | Prescription medicine |
Precautions And Warnings
Following are the precautions and warnings that one should follow while using Pircetam.
Keep Piracetam away from children.

Do not drive or perform any hazardous task, as Piracetam can cause drowsiness.

People with heart disease should take this nootropic cautiously.

Elderly people should use Piracetam cautiously as it can cause serious side effects.

Do not abruptly stop taking the medication without first visiting your physician.

Read the label of the medicine properly before administration.

Store the medicine in a dry place away from heat and moisture [9].
Piracetam Side Effects
Clinical studies and user reviews show that this nootropic is safe and has a few side effects, including insomnia, anxiety, weight gain, drowsiness, agitation, and depression.
These side effects usually disappear as the body gets used to it, and if the effects persist, consult a healthcare expert [10].
Interactions
Piracetam can cause certain adverse effects if coadministered with other drugs.
Anticoagulants and antiplatelet medications that slow down blood clotting may interact with piracetam. The following list includes some of the drugs that interact with Piracetam:
Aspirin

Clopidogrel

Diclofenac

Ibuprofen

Warfarin

Heparin

Enoxaparin

Dalteparin

Naproxen.
This is not a complete list of Piracetam's possible interactions. It is advisable to speak with your doctor prior to the coadministration of Piracetam with other medications [11].
FAQ (Frequently Asked Questions)-
What is a Piracetam used for?
Piracetam is most commonly used for seizures, vertigo, dyslexia, and tardive dyskinesia.
What type of drug is Piracetam?
Piracetam is a synthetic nootropic.
What is Piracetam used for in neurology?
Piracetam has been used in various neuropsychiatric disorders, including dyslexia, anxiety, spasticity in cerebral palsy, etc.
What is the mode of action of Piracetam?
Piracetam works in the central nervous system and in acetylcholine and other brain receptors involved in memory and learning. Piracetam protects and supplies oxygen to the brain.
Is Piracetam legal in the US?
Yes, Piracetam is legal in the US.
Can one take Piracetama and alcohol together?
Piracetam with alcohol can cause intoxication; therefore, coadministering them is not a good idea.
Piracetam - Our final thoughts about the Nootropic
Our investigation into Piracetam has led us to the conclusion that it is a synthetic nootropic that is efficient and well-tolerated and has a variety of applications
Are racetam safe?
Yes, racetam is usually safe.
What is the Piracetam attack dose?
The Piracetam attack dose ranges between 4000-8000 mg.
References
Piracetam, Wikipedia.

The effectiveness of piracetam in vertigo, PubMed.

5 Benefits of Piracetam (Plus Side Effects), Healthline.

Piracetam and dyslexia: effects on reading tests, PubMed.

Piracetam: A Review of Pharmacological Properties and Clinical Uses, PubMed Central.

What is piracetam used for? Drugs.

Piracetam, Wikipedia.

Piracetam, psychonaut wiki.

Piracetam, practo.

Piracetam - Uses, Side Effects, and More, WebMd.